Regular price
$58.00 USD
Sale price
$58.00 USD
Unit price
per
Sale
Sold out
SPECIFICALLY FORMULATED TO HELP MAINTAIN HEALTHY TRIGLYCERIDE LEVELS WITH ROSEMARY AND BITTER MELON (60 COUNT)
Herbal dual-action effect to support enhanced "lipid metabolism" and boost effectiveness *

Formulated to support healthy triglyceride levels *


Soy and gluten free to suit your diet plan*

Check your results: compare your before & after blood test numbers. Get tested, use for 3 months, then get retested.*
Share
View full details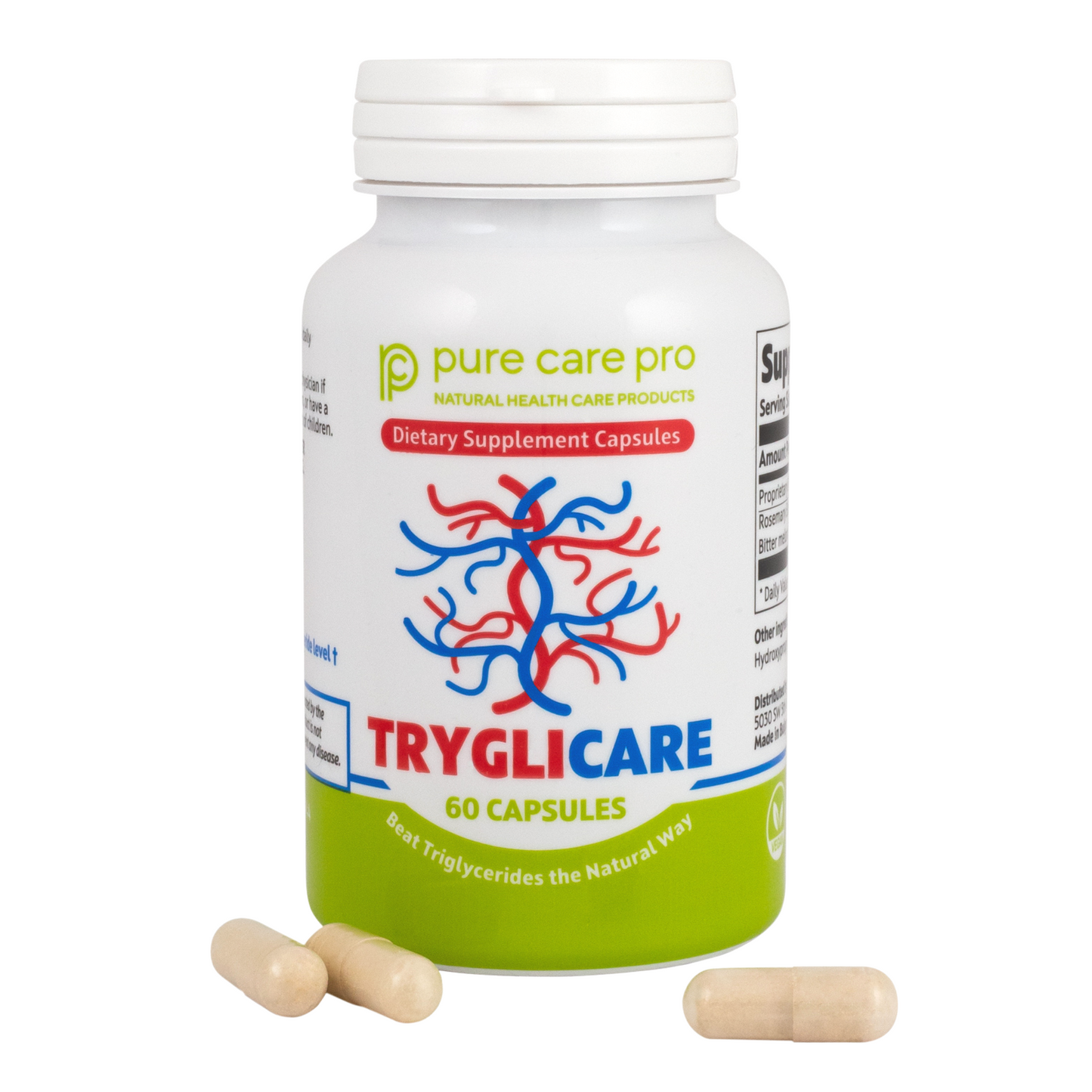 SUPPORTS HEALTHY TRIGLYCERIDES

NATURAL NO FILLERS

GET TESTED

CHECK YOUR RESULT
Collapsible content
INGREDIENTS

Tryglicare is an innovative combination of two herbal extracts - Rosemary Extract and Bitter melon, specially blended to help support and maintain healthy triglyceride levels.

Rosemary Extract – to help promote healthy lipid metabolism and support balanced triglyceride levels.

Bitter Melon (momordica charantia) – Works in synergy with Rosemary Extract to provide a dual-action effect for superior triglyceride support.

Together, the ingredients in Tryglicare's patented formula create a cascade effect in order to help enhance its action and provide 100% pure, natural support to help maintain triglyceride health.
DESCRIPTION

The Natural Path to Maintaining Healthy Triglycerides for Healthy Arteries

The herbal formula of Tryglicare is crafted to deliver our advanced dual-action combination of two powerful extracts to help support normal lipid metabolism to help keep your triglyceride levels healthy.

Tryglicare's innovative, patented combination of Rosemary Extract plus Bitter melon works to significantly boost its triglyceride healthy effects, so that you can better manage your numbers to help keep your triglyceride levels healthy.

Tryglicare is the natural support for your triglycerides to help maintain a healthy heart and blood vessels.
BENEFITS

Tryglicare's patented formula is specifically designed to help support healthy plasma triglyceride levels. Trygilicare is formulated to:

Help maintain healthy triglyceride levels – Tryglicare is a powerful, all-natural formula to help you maintain triglyceride health.

Promote healthy lipid metabolism – The pure ingredients in Tryglicare work in synergy to help support efficient lipid metabolism to help you maintain triglyceride levels, in addition to a healthy diet and lifestyle.

Support heart and blood vessel health – The healthy triglyceride levels you maintain with Tryglicare could help you keep your blood vessels and your heart healthy.

Check your results – Before taking Tryglicare, we recommend that you have bloodwork done and your numbers tested by your doctor. Then, repeat at 90 days so that you can see exactly what Tryglicare is doing for you. The results our customers see are the reason they never miss a dose and the secret behind their glowing testimonials
QUALITY

At Pure Care Pro, we believe that your health and your life should never be a compromise. That's why we offer clearly labeled formulas with all-natural ingredients. You can rest assured that Tryglicare is:

Potent – Tryglicare's carefully selected ingredients work synergistically to deliver superior triglyceride support to help you maintain healthy numbers.

Pure & Natural – Formulated using only pure ingredients for a healthy, natural blend you can feel good about.

Soy & Gluten Free – Tryglicare is carefully manufactured in a GMP Certified facility. Our tablets are soy and gluten free, so that you get only the purest natural ingredients to help support your best health.

Backed by Our Money-Back Guarantee – We back our products with our 100% Money-Back Guarantee. Get measurable results or we'll refund your money – no questions asked.
DIRECTIONS

Suggested Usage:

Take 2 capsules per day, 1 hour after a meal
60 pills per container
Store in a cool, dry place
NON GMO
GLUTEN-FREE
DAIRY-FREE
SOY-FREE
VEGAN FRIENDLY & ALL-NATURAL
SUGAR-FREE
SHELLFISH-FREE
WHY PURE CARE PRO
100% Natural Ingredients

Pure Care Pro products are formulated using purely natural ingredients so you can support your health without the worries of chemicals, toxins, and other dangerous additives. We use patented proportion formulations, always showing our full ingredient list, to deliver the best results so you can feel your best every day.

Clinically Tested & Verified

We back every purchase with our 100% Money-Back Guarantee. See measurable results or we'll refund your money – no questions asked.We recommend getting tested, using our products for three months, then get tested again. Use your before and after testing data to evaluate the effectiveness.

Potent Support

We believe that you shouldn't have to trade one health problem for another in order to get the relief you're looking for. That's why the unique blend of natural ingredients in our supplements work in synergy to help you reach your health and wellness goals.